News
After a two-day slump in share prices spurred by the Dubai debt crisis, Bloomberg had an interview with Mark Mobius and featured his manga comic on the show. Mark Mobius Picks Emaar, 'Bombed-Out' U.A.E. Stocks (December 2, 2009)
---
Mark Mobius has joined Twitter, posting his views on emerging markets. He is also blogging in "Investment Adventures in Emerging Markets". (November 2009)
---
Mobius Seeks Private Equity Investments in Sri Lanka After War, Bloomberg said. (November 13, 2009)
---
Singapore's major business newspaper "The EDGE" featured an interview article with Dr. Mobius, and the comic book. (June 2009)
---
Korean edition is published by ArgoNine. (April 2009)
---
The Indonesian edition is published by Penerbit PT Elex Media Komputindo. (2008)
---
Chinese long-term edition is published by Merlin Publishing Co, Ltd. in Taiwan. (November 2008)
---
Bloomberg Television interviewed with Dr. Mobius and featured his comic. (May 29, 2008)
---
Dr. Mobius had a speech at "Investment Strategy Fair 2007" organized by Pan Rolling. Nearly 1,500 participants joined. (January 27, 2007)
---
"Since we started investing in emerging markets, we have seen dramatic growth - the number of countries has grown from five to 40, the size of the markets has gone from billions to trillions and the number of players has increased dramatically."

Dr. Mark Mobius
Story
Prologue
In 600 B.C., People believed that the Earth was a flat disk surrounded by sea...

Chapter1: The Bald Eagle Has Landed
In 1989 a coup happened in Philippines, at that time Mobius and his team visited a company in Manila...
Chapter2: Emerging Markets
Emerging markets have less than 15% of the world's market capitalization, 85% of the global population and 76% of the world's surface area...
Chapter3: Lili Marlene
In his childhood, Mark was brought up in an environment where German, Spanish and English were spoken. In this way, he came to enjoy diverse cultures with different languages and developed intellectual curiosity...
Chapter4: Columbus' Descendant
Mark studied social psychology, art and journalism at Boston University, and got a PhD in Economics and Politics at MIT, that gave him many opportunities to undertake research and try new projects...
Chapter5: A Mouse in Asia
In 1967, Mark first visited Hong Kong in the midst of the Cultural Revolution, to work as a market researcher at Monsanto...

Chapter6: The Doll Business and His Ambition
Mobius Inc in Hong Kong helped launching the business of the Western European corporation by researching Asian countries. One night he returned from a business trip, a fire broke out at his home...
Chapter7: Fateful Call
One day he heard a rumor of a mysterious holding company buying many buildings and companies...

Chapter8: Templeton
Sir John Templeton founded the Temleton Mutual Fund Organization, he is a global investment fund manager in the U.S. Between the 1960s and 1970s he started investing in a developing country at that time, Japan. He bought Japanese stocks with a Price to Earning ratio of only three times and sold it when it became 30 times, earning him huge gains...
Chapter9: Customers and Fund Managers
During the market was at the peak and could collapse at any time, other fund managers kept investing in the rising market. He said he had a premonition that tragedy was going to strike soon...
Chapter10: Russian Roulette
Mobius flew from St Petersburg to visiting Russian companies. The Republic was established after communism in the Soviet Union collapses at the end of 1991. A market economy ssytem was subsewuently implemented...
Chapter11: A White Elephant and A Bald Eagle
In 1997, huge short selling of the baht was occurring in Thailand. Soon after the central bank abandoned the pegging system, the baht fell sharply. The currency crisis spread across Asia...
Chapter12: The Last Frontier
A car kicks the tires in the countryside of Africa to look for investment bargains. Now the team invests in many regions and over 40 countries, providing their investors with a global asset allocation...
Epilogue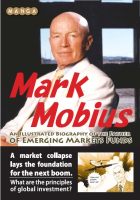 English edition
ISBN 9784-7759-3040-3
Amazon.com
TradersShop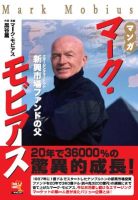 Japanese edition
ISBN 9784-7759-3034-2
TradersShop

Chinese long term edition
ISBN 978-986-6511-01-1

Korean edition
ISBN 978-89-93497-08-3

Indonesian edition
ISBN 978-979-27-3218-4

Thai edition
SOLD OUT